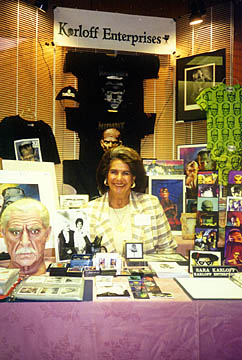 I hope you will enjoy our newly added Artists' Gallery which will feature some marvelous original Karloff art by some superbly talented artists. We will try to provide a brief resume of each artist, as well as information on how you might contact them with your querstions.
Please remember that each artist holds the copyright to his or her art!
It is my hope that other talented artists will send us their Karloff art for you to enjoy when visiting our Artists' Gallery.
We will be adding my father's filmography, as well as his radio, television and stage credits to the site.
As I frequenly receive inquiries from possible distant relatives of my father's, we will post the Family Tree which appears in both Cynthia Linday's "Dear Boris" as well as in Scott Nollen's "Boris Karloff: A Gentleman's Life". For those of you who are interested in more detailed information on my father, his life and his career, I can highly recommend each of these biographies. They are available through our web site.
I always enjoy hearing from my father's fans, and I especially enjoy meeting them at the various conventions we attend around the country. I will try to keep a current schedule posted on the site. We don't do many shows a year, but we enjoy those we do attend.
I welcome any suggestions which you feel might make our site more enjoyable and user friendly for my father's fans.
I hope you will enjoy our newly designed web page. It is our hope that it will be a successful combination of a tribute to my father and his work, a venue for the work of the gifted Karloff artists and a display for our revised 'fan friendly' product line.
My husband, Bill (Sparky) Sparkman, and I wish to thank our patient and talented web master, Tony Ciarochi. He is totally reponsible, not only for our wonderful web site, but also for helping me maintain my sanity, as I remain essentially computer illiterate.
Thank you for visiting the official home page of my remarkable father, Boris Karloff. Thank you for helping me cherish the legacy, both personal and professional, which he left us all.


Sara Jane Karloff