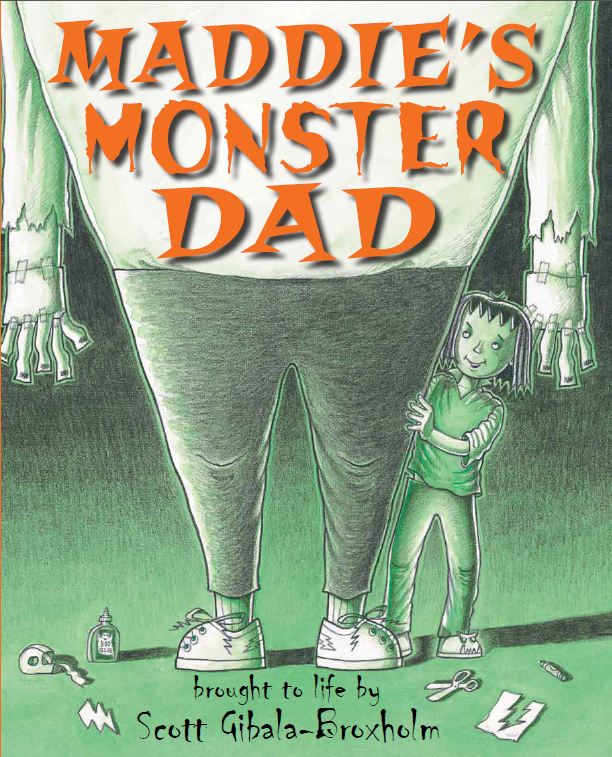 "Maddie's Monster Dad"
a new children's book by Scott Gibala-Broxholm
---
Exclusive!: Each copy purchsed from this web site will be personally autographed and include a small, custom drawing by the author!
---
Publisher's description:
"Maddie loves monsters. She loves watching monster movies, eating monster cereal, and drawing monster pictures. She also loves doing things with her dad. Lately her dad is very busy with work, so Maddie decides to use her Build-a-Beast kit to create a Monster Dad that is never too busy to play. But it turns out there are some things that monsters can't do, and maybe a Monster Dad isn't as special as the real thing."
---

"Wonderful and enchanting. I was immediately transported to another world. What a compliment to my father to have his name attached in any way to such a work for children!"
- Sara Karloff


$16.99
+ 4.95 s/h
Scott Gibala-Broxholm was born in a castle laboratory one dark and stormy night. . . . No, not really. Actually, he was born in upstate New York. Growing up, he loved to draw, especially pictures of old movie monsters. A particular favorite of his was Frankenstein's monster (and he even does a fair Boris Karloff impersonation).

Scott is a graduate of Syracuse University, and he spent his junior year studying in London. He and his bewitching wife, Janice, have two frightfully good children, Brent and Tess. They reside in Walworth, New York, where Scott still continues to create monsters . . . on paper.