Thank you for visiting
the official Boris Karloff web page!
To our frightfully fiendish fans
Wondering where we have been? We have been down in the dungeon, scouring every inch for one-of-a-kind and not seen for a very long time items so we can create a new monstrous look for our website.
With this creepy COVID-19, Sara does not have any upcoming public appearances to announce but keep checking back!
~~~
This is the only site actively maintained by the descendants of the great Master of Horror,
Boris Karloff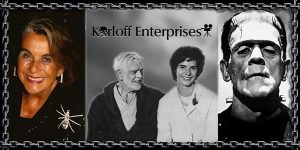 (c) 2015 Ed Seeman