Thank you for visiting
the official Boris Karloff web page!
This is the only site actively maintained by the descendants of the great Master of Horror,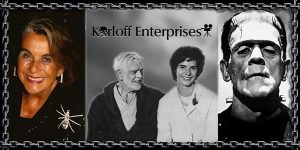 (c) 2015 Ed Seeman
We hope you find something frightfully interesting here…
---
To my father's fans:
My guest appearance on Oct. 13 and 14 at the Sacramento Sinistar Creature Con has been canceled by the show promoters, Tim Meunier and Brian Jones.  I was notified by email on Sept 14 that I had been removed as a guest, the very day the promoters knew I had left for the U.K. on a 19-day business trip.  I had agreed to all of their terms and conditions and was looking forward to meeting my father's fans in the Sacramento Bay area
I find this behavior to not only be unprofessional, but disrespectful of my father's legacy, of which his family and fans are most proud.
If you have any questions, I can be reached by email.
Sara Karloff