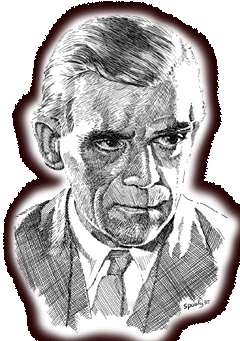 ---
Tribute Letter from Wayne Lionel Davis

---
Dear Sara,
hello...my name is wayne lionel davis...
I was looking through my winamp video library and opened up a site that shows old tv shows and was thrilled to see that the show ... this is your life with ralph edwards was in progress....and he was talking to your father...what a surprise....i'd never seen that particular presentation before and learned a great deal about a few of his many friends who made surprised appearances...and you were among them....i enjoyed seeing you two together and could feel the warmth he gave you when you greeted him with a gentle kiss...
It was then that i thought i would find you...and let you know that as a kid i enjoyed many hours of entertainment in the movies and tv during my formative years...i quickly became a horror buff and your father was at the top of that list...even then i was amazed that i was able to look beyond the make-up and generate a feeling for the tormented monster your father portrayed in the james whale epic...he immortalized the image that we all remember as the frankenstein monster in the movie version of mary shelley's classic novel by the same name.
...and then there were all the other roles...and yes...his voice was one of which was mellifluously hypnotic when he did narratives ... it was later that i came to know a bit more about him as a scholar and a most distinctive gentleman which did transcend his work as a well known actor...
I remember once talking to the late forrest j akerman briefly about your father...he only had glowing words and humorous stories to tell about the man who was very much unlike the darkly mysterious characters he portrayed in most of his films...he said he'd never met a kinder man...
Ididn't know your father except from what i've read and seen on screen....you are lucky to have shared all the treasured moments you remember as you think back on your life with him as a father figure slightly larger than life...
I could go on and on...so as not to take up more of your time in your busy schedule...let me close in saying that i just wanted you to know these things that reflect my feelings regarding my many memories which do honor your father in a personal way.. also to say that .i'm married with kids...( i was born in 1948) boy 21...and daughter 17 yrs...and it's bit sad that the young ones can't know of that magic that filled the cinema back in the day when the name Boris Karloff would appear on the screen..and how we loved black and white....his performances left so many of us speechless as he never had to say much in dialogue to convey such originality and memorable characterization in all of his many roles...as i do believe in the spiritual nature of our transition into that other world...i'll say to him...thanks for the memories...boris....and to you...thanks for keeping active this site which has allowed me to be able to get this message to you...well....i do hope you get it...
Yours very truly...
Wayne Lionel Davis