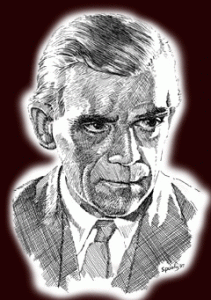 Dear Mr. Anthony,
This is Lorenzo De Luca, an Italy's screenwriter. My wife Anna and me signed the petition yesterday.
As very first thing please to excuse my very unperfetc spaghetti-english. I'm an established screenplayer in my country, but I think just a couple of my movies reached US market, anyway Boris' art was one of the reasons of my falling in love with movies, since I met Him when I was 8, in 1972.
That year I met two legends: the first one, Bruce Lee, was in Rome in order to filming scenes for his The Way of the Dragon, and I met Him thanks  my uncle worked in the italian side of the crew; the second one was the already late. Mr. Karloff and I was introduced to him by my mother by seeing a re-edition of Son of Frankenstein.
Now Im almost 48 and Im still watching His movies. Actually Im surprised about the petition since I assumed as a totally natural fact that a lifetime achievement like this should have been already created with no need of petition. The greatness of Boris acting deserves nothing less! God bless Him for his face, his voice, his charisma and talent.
Once He said He was sure to be a good Lord Fauntleroy on stage but that nobody
should have paid a penny to see Him acting this role; well, in a perfect world
I would pay just to see him read the list of the food to buy for Christmas!

Best

Lorenzo