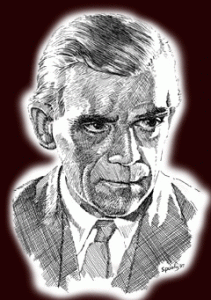 Hello,
I hope I am writing to the daughter, Sara, of the wonderful Boris Karloff.
I know you don't need anyone to tell you what a wonderful actor he was. He seemed liked he would have been a really nice man too. I know it makes you feel good when someone comments on your father as to what a talented man he was. It makes me feel good when someone comments on my father who is also deceased. It makes you proud to be part of them.
My father was a hugh fan of your father also. My dad is the one who "introduced" me to your father's films. And I am very glad he did.
If Mr. Karloff were here today I would like to thank him for paving the way for the horror movies of today. None will ever match any that your father ever made but at least he opened the door for today's horrors.
I am sorry for taking up so much of your time but I just wanted to let you know what a hugh fan I am of Mr. Boris Karloff. I can honestly say he was and still is my favorite actor of all times. I also want to say you have a wonderful site in honor of your father.
Sincerely,
MarCella Altizer
from Roanoke, VA