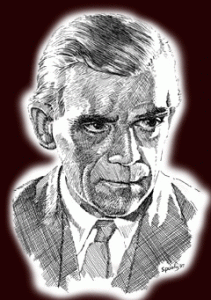 THE ULTIMATE TROUPER
It was because of Boris Karloff that I became, when I did, a picture director. Boris owed producer Roger Corman two days work, and Roger offered me the job of taking those two days and, along with some other elements and days, create a brand new Karloff movie. This was in late 1966, and Boris had been a star since 1931, thus after 35 years, his name by itself could still carry a picture. So we wrote Targets (1968) for Karloff, wrote him the part of Byron Orlok, a famous horror movie star who wanted to retire because his kind of Victorian horror could not compete with the modern horror of a sniper killing randomly (as a young Texan did in Austin in 1966).
The script was sent to Karloff and he liked it, though his role was written with a number of self-deprecating lines and moments of self- debasement, so in our first phone conversation from LA to London, Boris said, "Since I'm playing a character very like myself, do I have to say such terrible things about myself?" I argued that he was so well liked as an actor and as a person that the more bad things he said about himself as an actor or person, the more the audience would say it wasn't true. Karloff never brought it up again, and said all the self-abusing remarks in the script just as they were written. And superbly.
But what didn't he do superbly? He was able to strike any note, as can be seen from all his numerous films, and by his occasional stage work: I was fortunate enough to see him in 1955 as the French dauphin on Broadway in "The Lark", French playwright Jean Anouilh's drama (adapted by Lillian Hellman) about Joan of Arc, with Julie Harris as Joan, in a cast that also featured Christopher Plummer and Theodore Bikel. Boris was the model of elegance and profoundly thoughtful grace.
He also had a great speaking voice, and the brilliance of a born storyteller. When I heard him on TV doing his memorable narration for Chuck Jones' classic cartoon feature of Dr. Seuss' "How the Grinch Stole Christmas", I determined that I could not make a Boris Karloff picture and not have him tell a story somewhere in it. Which gave birth to one of the best scenes in the film. Boris—in one continuous shot—tells a riveting two or three minute "scary story" about a merchant from Baghdad who thinks Death is looking for him in Baghdad and so flees to Samarra, which turns out to be exactly where Death has " an appointment with him tonight-in Samarra."
The text was borrowed from a little-known play by Somerset Maugham, and Boris nailed it with consummate skill on the first take. It was 1:30 in the morning on a little sound stage on Santa Monica Blvd. in West Hollywood, and we'd been shooting with Karloff since 8:00 that morning. Right after Boris finished, and I yelled, "Great! Cut! Print! That was terrific," the entire weary crew burst into spontaneous applause. You could tell Boris was touched and gratified by their reaction, and Evie Karloff, his wife, had tears in her eyes. Karloff was 79 at the time, with steel braces on both his legs, suffering from a bad case of Emphysema, and had less than two years left to live. He never complained at the long hours, he was always the ultimate trouper.
What I didn't know about his career was that he was also the inspiration for a series of 60s horror comics, of which this is the fourth collected volume. The force of his power telling a story was so strong that it could make itself felt even through cartoon drawings. Talk about having an identity!
When I asked him once how he really felt about being typed from "Frankenstein" (l931) onward, he looked at me curiously. "The Monster? How do I feel about the Monster?" He smiled distantly. "He gave me a niche. For which I am ever grateful. He gave me a career." And what a unique career it was— for this kind, soft- spoken, polite English gentleman, born William Henry Pratt—but known with as shiver throughout the world by just one word—Karloff. Long live Boris!
PETER BOGDANOVICH