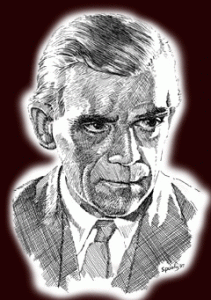 Dear Sara,
I cannot express how much I love your Dad. He is so unique, gentle and cool. I first saw Frankenstein in 1967 at a local drive-in (at 6 years of age). I cried when he burned in the windmill. With opened arms, I remember the monster appearing to me in numerous dreams. Forever I'll cherish his performance- so humane, sincere, honest, innocent. Your Dad radiated so much feeling and passion through his characterization. I know he was just being himself.
His dynamics (along with Jack Pierce's incredibly awesome make-up) still surpasses today's "high tech" budget films. Classic, untouchable and never paralleled, your Dad is forever a permanent icon phenomenon. He is the only Frankenstein monster.
There is such a special (almost indescribable) feeling that has always touched me everytime I see this film. I still watch it and can't believe how beautiful this is. It is very similar to how I felt at Christmas time as a child- like a rare treat.
I have attached some photos of drawings I did of him some time ago. Let me know what you think. Also, if you have any unpublished, rare, or behind the scenes photos of him as the monster, please give me a chance to render them. For that matter, if you have a personal favorite, I'd be very interested in doing that as well.
I hope to hear from you.
Very sincerely,
Mark Robinson (or Robinstein as I like to call myself)