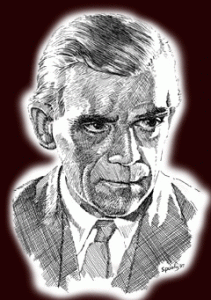 Dear Ms Karloff Sparkman,
Here is yet another letter from a fan of your father's who is unable to write to him directly, and so recourses to contacting you. There are a lot of us out there, so thank you in advance for your perseverance!
I saw my first Boris Karloff film when I was 9 years old, and was immediately overwhelmed by his talent, sensitivity and presence. He was in his most famous role: The Monster – a character that children somehow seem to tap into more than adults. What a perfect introduction to your father's craft!
Still, I was brave to watch the movie. You have to understand the circumstances… it was on late night TV, and I had to endure watching Jeanette MacDonald and Nelson Eddy in the syrupy Sweetheartsbeforehand – an anathema to any 9 year old. Then there was my father warning me that Bride of Frankenstein was going to scare the hell out of me and that I would be unable to sit through it.
For once, Dad was wrong. Bride of Frankenstein began my life long addiction to classic horror (or as your father would prefer, "terror"). And here I am now, at 44 years of age, writing to you… I've seen you in so many documentaries guarding and preserving your father's memory — you are the caretaker of His Legend. and what a Legend, indeed!
Yes, once again like every other modern fan, I wish I could have met him. and yes, the next best thing is to write to you and express myself to someone who was close to him. Boris Karloff has that kind of appeal! He was a true gentleman (an ever increasing rarity), learned, had compassion for his fellow actors starting the Screen Actor's Guild and modest. I'm sure you've heard all of this many times before… so please forgive me for having my turn.
I've a small memorabilia collection which includes a few items relating to your father. They're amongst my most treasured items. I'm sure you'll recognize a few pieces. I'll be paying attention to Heritage Auction Galleries in February – but my wife and I are expecting our first child this year, and as you can imagine, I have to be a little 'level-headed" with money!
Anyway, I've enclosed a short DVD of my collection and I hope you will enjoy it. It is in the PAL television format, and if you DVD player and TV aren't multi-regional, you should be able to play it on a computer.
Warm Regards,
Garth Thomas
Thornleigh 2120
NSW
Australia