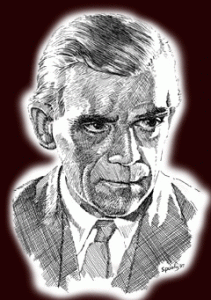 Hi.
I just happened to run across the Boris Karloff webpage yesterday, and was very moved by the tribute letters I read, especially the one by Tom Gabriel. I tried to send him a letter at the e-mail address listed at the end, but I instantly got a note saying the address was unknown. I would appreciate it, if someone there could forward my letter to Tom, or at least give me a current e-mail address, so I can get it to him.
I love your web page, and I'm so glad to see this great man remembered in such a way.
And to Sara Karloff, I hope I get a chance to actually meet you some day! It's so refreshing to see the child of a great star who remembers her father with love and affection instead of the tabloid level, bitter venom that is seen all too often these days.
Thankyou, for keeping your dad's memory alive in such a wonderful way!
Sincerely, Brad Wonnacott
---
Hi Tom.
I just finished reading your tribute letter at the Boris Karloff web page, and all I can say is, I wish I had written it! I was starting to feel like the lone ranger as far as my feelings for the old monster greats, with Boris Karloff at the top of the list, until yesterday when I stumbled across his web page!
I had just purchased a Cine/Art Boris Karloff as Frankenstein bust from a guy I met on e-bay who is friends with the original artists, and it started me thinking about the A&E biography of Mr. Karloff. His daughter Sara was interviewed, and she talked about how she travels around the country meeting with fans, and how much she enjoys it. I thought I might be able to find something on the net giving information about her appearances, and that's when I found the web page, and your letter.
Anyway, I just wanted you to know how much your letter meant to me. You put into words so eloquently, things I've felt for a long time. I just saw "Targets" for the first time a few months ago, when it was on AMC, and it was a wonderful tribute to a brilliant man. I agree with you that the character Mr. Karloff protrayed illustrated his own feelings very closely. It's too bad his ideals aren't found very often in the movie industry today. Too much emphasis on gore, and nothing left to the imagination.
I don't know if you've seen the A&E program I mentioned, but it's called,"Boris Karloff, the Gentle Monster". It's wonderfully done, with lots of footage from Karloff films, and even some home movies taken by friends and family. The program was done with great respect and affection. If you don't have a copy, or haven't seen it, I would be happy to make a copy and send it to you. Just let me know.
I've tried to expose my kids to the old movie greats as often as I can, and I can only hope that some of it has rubbed off. I like to think that as long as we can still see the movies Boris Karloff, and other great performers have made, and fans like you and I share our thoughts about them, they will never really die.
Thanks again Tom, for taking the time to share your thoughts and feelings about this great man.
Take care and I hope to hear from you!
Sincerely. Brad Wonnacott